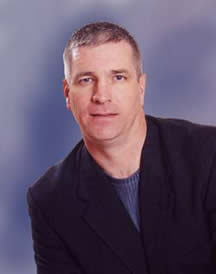 Mark Johnson travels the world providing inspiration and motivation to a wide variety of international audiences. He speaks with passion of overcoming adversity and survival. Mark provides insight and initiative through motivational speaking, as well as Leadership and Team Building Training. His clients range from large corporations to small businesses across the globe, as well as high schools and universities.
Mark spent twenty years as a Special Forces, Green Beret officer in over fifty nations on four continents, much of this time in combat, remote locations, and other sensitive operations. He was decorated with the Bronze Star for his extraordinary actions during the Gulf War. Mark retired in the rank of Lieutenant Colonel in October 2000.
He has devoted much of his life to education and teaching. Mark taught at the U.S. Army Command & General Staff College, Fort Leavenworth, KS for more than eight years and his last assignment in the Army was as Chairman and Professor of the Military Science Department at Pittsburg State University, in Pittsburg, Kansas. In his first year in this position, he recruited an unprecedented number of students to attend an introductory summer camp, more than doubling the existing national record! This serves as one small example of Mark's unique ability to excite, encourage and inspire people towards their individual goals. Click here for more information about Mark and the National Record.
Since the events of September 11th, 2001, Colonel Johnson has played an important role in the global war on terror. Mark has been called upon to assist our Special Operations forces, in the role of consultant, instructor, and advisor, and has returned to the Middle East and Asia numerous times. Mark also continues to inspire audiences through his ongoing speaking engagements. In 2006, he spent four months in the Middle East training key allied battle staffs in leadership and command.
Mark is also the author of two books on leadership, team building, and motivation: "How To Get Anyone To Follow You Anywhere: Green Beret Secrets to Leadership and Team Building and "Lessons in Leadership: Straight Talk from a Green Beret. In these books, Mark details a wide range of leadership and team building techniques, as well as specialized advice applicable to a variety of individuals and groups.
In addition to his speaking career, Mark is an adjunct faculty member at Longview College in Lee's Summit, MO, where he teaches multiple leadership classes each semester, as well as the Cavalier Leadership Development Program of Johnson County (KS) C.C. He is often called upon to teach and guest lecture at the University of Kansas and other universities. Click here for more information about Mark and his position at Longview College.
In addition to Mark's skill as a public speaker and successful leader, perhaps his greatest gift is his innate ability to lead, supervise, and inspire. He has done this throughout his life to include combat situations and times of extreme adversity. Mark is internationally regarded as a dynamic speaker who truly enjoys helping and coaching others. As a member of the National Speakers Association, Mark gives of himself on each and every speaking and training event.
Click here for more information about Mark's extensive military experience.
---
Mark Johnson truly provides a "spark" to any program with his effective presentation and compelling, first-hand experiences of leadership in the most challenging of circumstances. He is a great patriot, with a heart for young people and a passion for excellence. His message is a vital one for youth, business, and community leaders.

Dr. Ron Wilson
Director, Huck Boyd National Institute for Rural Development
Kansas State University
Past President, Kansas Leadership Forum

Mark Johnson had a tremendous impact on our organization. Mark's passion, integrity and commitment along with his heart and love for people is a rare combination to find in one person. Not only is he a tremendous communicator but he has a story to tell through his life experience that is absolutely remarkable. If you need to make an impact on your business, bring in Mark Johnson.

Steve Jones, President
SLJ and Associates, Inc.
Portland, OR

I cannot find the words to tell you what a pleasure.....you completely blessed our organization with your passion, compassion, and interactions. I thank God that this country has true heroes like you. Your energy could light up an entire stadium, thanks again for YOUR inspiration.

Jeff Applebaum, President
Applebaum Associates
San Jose, CA

Mark had a tremendous positive impact on our event and our people. Whether he was onstage, backstage or signing books, he consistently inspired others and lived out the principles he teaches. A great combination of patriotism, heart, and leadership principles. He motivated many to action.

Tim Leets,
Chief Operating Officer
InterNet Associates