Mark Johnson served the nation in an exemplary manner during his twenty year career as an Army officer, retiring October 1, 2000, in the rank of Lieutenant Colonel. Mark received his commission from the ROTC department at Kansas University. He graduated from the Special Forces Qualification Course in 1981, earning the Green Beret.
While assigned to the 7th Special Forces Group (Airborne), he deployed to various locations in Asia, the Pacific region, and west Africa, often for long periods of time. He served in a variety of positions, most notable among them A-detachment Commander for Operational Detachment (ODA) A-751 and Special Forces Company Executive Officer.
In 1984, President Reagan reactivated the 1st Special Forces Group (Airborne) and Johnson was the first officer selected from a carefully screened, handpicked group of officers to command the first A-team (A-111). During his years on Okinawa, Japan, he deployed to all parts of Asia and the Pacific, often times in remote, isolated areas. Frequent locales included Thailand, Philippines, Korea, Malaysia, Indonesia, Guam, Hawaii, and Japan.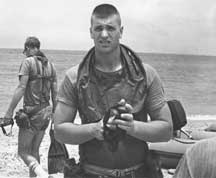 Water Operations off the coast of Thailand. There can be little to match the sheer excitement and danger of parachuting, diving, and swimming the vast Pacific Ocean.

After a one-year remote assignment with the Republic of Korea's 1st Army headquarters in Wonju, Korea, Mark spent four years with the 5th Special Forces Group (Airborne), which took him to numerous locations in Africa, to include Somalia, the Middle East, and Operations Desert Shield and Desert Storm. During his more than seven months in the Persian Gulf, he served as his battalion's Operations Officer, responsible for conducting a multitude of special operations missions, to include deep Special Reconnaissance and Direct Action missions, Combat Search and Rescue, and Coalition Support Operations.
When his duty in the Gulf War ended, Johnson was chosen to command the Special Forces Detachment-Korea, an elite unit of U.S. and Korean Special Forces senior-level soldiers, in Seoul, Korea for two years.
After being selected for and attending the Command and General Staff College, he then became part of the faculty and was responsible for the instruction and education of mid to senior level officers and commanders. He then was summoned to Europe to act as the Special Forces plans and operations officer for a NATO command, the Allied Forces Central Europe, in the Netherlands.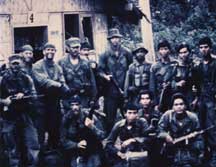 Tracking and chasing down "guerillas" in the Philippines with a unified, combined team of US and Filipino Special Forces soldiers.
Colonel Johnson closed his military career as he had opened it…by having a significant positive impact on the lives of many people. As the Professor of Military Science at Pittsburg State (KS) University, in his first year he obliterated the existing NATIONAL RECORD for sending students to an ROTC leadership camp in Fort Knox, Ky. Of the more than 300 universities across America who send students to this six-week camp each summer, the previous record for attendance from one school was 25. The average number sent by each university was 3. Pittsburg State had never sent more than 7 in one year, and usually sent 2 or 3 each summer. Johnson recruited, motivated, and sent 52 students to camp, more than doubling the existing national record! This illustrates the sheer magnetism of Johnson's charismatic leadership, and his leadership message.
---
The ultimate team, Special Forces detachment A-111, in Okinawa. Our motto: "Make the impossible...Possible!" We did just that all over the world.




"In 1984, on the island of Okinawa, Japan, I met and was very impressed by a young and highly motivated Army Officer. His name was Mark Johnson, and he was proud to be in command of a United States Special Forces A-detachment, a 12-man team. This is a specially trained and dedicated team, a team that our nation does not hesitate to select when we need someone to...go first...go farther...and stay longer."

Such men are imbued with a sense of duty and mission accomplishment to a degree that is seldom matched elsewhere."


Roger H.C. Donlon
Colonel (Retired), United States Army
Congressional Medal of Honor
---
Coordinating all Special Forces missions during Desert Storm.

The finest captain in this battalion...a consummate professional... rock steady under the most intense pressure... the proper blend of every quality desired of our best combat leaders. I would fight to secure his services in any future assignment, in combat or peacetime.

Kenneth R. Bowra
Major General, United States Army
former Commanding General of the Special Warfare Center

---

I relied upon Mark Johnson's superior common sense and sound judgment, he clearly demonstrated his ability to perform both in combat and peacetime operations.

James W. Kraus
Colonel (retired), United States Army
Special Forces Commander during the Gulf War
---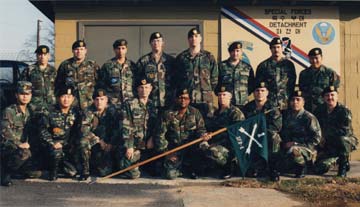 Special Forces Detachment–Korea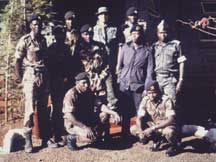 Training special forces in Kenya to track and bring to justice poachers and terrorists.