UNIVERSITY AND COLLEGE TALKS
What College Students and Faculty are saying about Mark
For Kansas Audiences... (download pdf)
Mark is recognized worldwide as one of the top speakers on college campuses. He has talked to various organizations at hundreds of universities and colleges throughout America and the United Kingdom.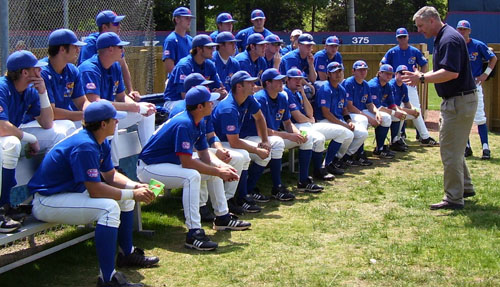 Mark Johnson speaking to the University of Kansas Baseball Team.
He is one of the world's foremost authorities on leadership and teambuilding, and travels throughout the world inspiring people to achieve excellence. After graduating with a Bachelor's Degree from the University of Kansas, Mark spent twenty years as an officer in the Special Forces/Green Berets. Here he trained and taught in over 55 nations around the world, became a decorated combat hero and now uses his energy as a world renowned motivational speaker. He went on to earn a Master's Degree and his 140-page thesis is used still today to motivate and educate aspiring Special Forces officers.
Mark's a real hit on every campus. His programs are tailored for each specific event and audience. His orientation address, for example, provides new students with ideas and tips to prepare them for higher education and their college experience. His talks to campus leadership groups provide critical advice and information that enable students to understand the essence of leadership and discover how they can improve their own skills. During the course of his career in Special Forces, Mark honed his own leadership skills by making life and death decisions on a regular basis. He translates his actions into usable and viable techniques and lessons to enable students for success on campus and beyond. As a former athlete himself, he is also very popular among athletic teams.
In the areas of motivation and recruiting, Mark has a unique perspective and unquestionable record. As a faculty chairperson at Pittsburg (Kansas) State University, for example, Mark established a national record (click here to view the full story) for recruiting students to attend a summer leadership camp. His program at Pitt State tripled in size in less than one year.Mark has authored two award-winning books on leadership and teambuilding and his dynamic style energizes the college audience like no other speaker. You will want to book him today for your campus.
Mark Johnson is available for:
Lectures (anytime of the year)
Orientation / Welcome Week / Back-to-school programs
Student Leadership gatherings
Student Government events
AFA, NACA, APCA, BPA, DEX / DECA (Delta Epsilon Chi) functions
HALO events
Greek sponsored lectures
Panhellenic events
Housing and Residence Life events
Career Day / Job Fair
Commencements / Graduations
Student Conferences
Summer programs
Academic and Club events
Athletic teams, events, banquets, award functions
Faculty Development
Recruitment
Any other function where an "outside" speaker for students is feasible
Mark's popular Topics for University and College Students and Faculty include:
---
TOPICS: (A brief overview)
Come in "average" - Leave with "honors"
How to make your College experience lead to a life of success
(Mark's most popular keynote presentation at Universities and Colleges)
In this powerful and award-winning presentation based on his personal experience in college, Mark offers "street smart" strategies for ultimately landing the right job at the right salary. Mark says "College is the grass-roots, the foundation of all your future success." It makes little difference whether you enter as a mediocre student or one who has achieved honors. It matters more how you depart. This presentation serves to motivate students to action, ultimately resulting in each student improving themselves dramatically and preparing them to be accepted and successful in their chosen profession. The strategies put forth in this keynote have but one ultimate objective: To Get you hired immediately upon graduation!
Some of the points covered:
What's Important and what's not and how to separate the two
Organize yourself for success now!
How to make a plan and stick with it
How to Motivate yourself and others daily
Secret techniques for relieving stress
Earn trust... and learn confidence
How to improve daily
Secrets for beating out other candidates for any position
What employees really care about and look for in candidates
Unique Marketing tactics to network yourself
---
Secrets for College Success, Make College Fun...
(Great for Orientation, Welcome Week)
Mark leads students toward creating a successful college experience by having students focus and emphasize the positive and recognizing, understanding and avoiding the negative. He uses many examples from his own College experience but also his twenty years as a Green Beret, including harrowing combat situations, to highlight and accentuate the positive aspects of life.
Some of the points covered:
Find yourself and understand where you are and why.
How do I get off on the right foot.
Why should I get involved in extracurricular activities
Bad companions bring bad luck
Pride and self-esteem will carry you through.
Secret techniques for relieving stress
How to get professors on my side, why is that important?
Develop a career focus and how to do it
Maximize each day: Today College, Tomorrow the world
---
"Real World" Leadership Skills; "C.E. times 3"
(Workshop for Student Leaders)
Mark presents powerful and effective leadership strategies in a simple and understandable formula he calls "C.E. times 3". Mark first learned these skills in high school as an all-conference and honorable mention all-state performer in basketball and football (quarterback). He refined these techniques in his twenty years around the world as a Special Forces/Green Beret Leader, motivating his people to overcome adversity in many of the world's trouble-spots. Mark had to make life or death decisions as a leader during harrowing combat situations around the world. He translates these unique and incredible adventures into relative applications for Student Leaders.
---
Students will learn:
How to effectively lead individuals and groups
The true essence of leadership
To develop the necessary communication skills of a top leader
How to effectively motivate different personalities
How to maintain a positive attitude no matter what
Learn the most important and critical elements of great leadership
The "C.E. times 3" formula for success
---
Turn your present-day fitness into future $$$
(Mark's most requested keynote for athletic teams and events)
A presentation specifically designed for men's and women's athletic teams. Mark has delivered this message to over 1,000 teams of all sports on college campuses nationwide. In this keynote address, he identifies those critical traits that he first discovered as an athlete himself, and served him well on the battlefield of life as a Green Beret leader in combat. Mark will explain how the athletic success you have enjoyed in high school and college will serve you well in life. What should you be concentrating on, learning, and gaining today that will benefit you tomorrow.
Some of the key points covered:
How to harness your energy and make it work "outside the arena"
How athletics prepares you for life differently than your peers
Translate your participation on a team directly to success in business
Dedication - Devotion - Loyalty: traits for winners
How your hard work today will pay off for you tomorrow
It's not about trophies... Its about people
---
Team Building the Green Beret way
(Great for workshops, conferences, organizations)
This is a high energy presentation designed to enable students to better understand the dynamics of team work and how to effectively transform a group of individuals into a unified team.Mark has devoted his life to leading teams and has done this successfully on the world's most dangerous battlefields, as well as on the college campus. He prides himself in his ability to maximize each member's potential and bring everyone to realize the same goal. This presentation will give student organizations information that can be used on your campus to develop teamwork.
Some of the key points covered:
How to get the team started and be productive
Green Beret secrets to teamwork
How to motivate different personalities
Organize the team to win
Plan, Practice and Exercise your team towards success
Team Identity and purpose
Team communication techniques
How to develop the "Team-first" mentality
Lead the team to achieve excellence
---
"Capture your Energy... Transform your life!" A message of inspiration
(Great for Orientation, Welcome Week or anytime of the year)
Another of Mark's most popular keynote presentations!
Mark says, "You can accomplish anything you want to in life... the only person who can stop you is yourself. If you face life's adversity - you will win! Where there is a will there is a way. The challenges you face in life will be opportunities in which to excel. Never give up, you will succeed. Stay focused on achieving your goal and always think positively." Accept responsibility, seek leadership positions, lead by your own positive example, and establish life's good habits today...not tomorrow. You do not learn, you must earn the trust of others as well as their respect. Transform your life, starting today... improve each and every day - starting now! In this dynamic keynote, Mark motivates student's with some key principles of developing the proper habits today to serve you well tomorrow.
You are in charge of your own destiny... no one else
Focus on achieving your dreams, not just the obstacles you face to reach them.
Commit yourself towards excellence
Choose the "Hard Right" over the "Easy Wrong"
Bad companions bring bad luck...choose wisely
Seek first to help others
Think "outside the box" to discover the riches of life
Take risks, do the right thing, and "Make the impossible, possible"
---
The Exceptional Educator
Faculty/Teacher Development
(Keynote or Workshop, Ideal for Teacher In-Service)
Mark presents a powerful and uplifting workshop which will serve to empower your staff and faculty. This message will reveal some insight to motivating students as well as yourself and effective ways to conduct successful meetings and briefings. He uses his own personal experiences which translate directly to your schools situation. He has given this workshop nearly 1,000 times to faculty from many states as well as in the United Kingdom.
Faculty will learn:
The essence of teaching
How to effectively organize yourself and your class
Tips and techniques to motivate your students
Tips and techniques to motivate yourself
How to relieve stress
Conduct Successful Meetings to win!
Facilitation skills
Listening skills
Effective communication
---
Faculty Teamwork
Green Beret Secrets of Team Building
Faculty Teacher Development
(Keynote or Workshop, Ideal for Teacher In-Service)
In this presentation Mark relays his idea's of how to mold a group of separate individuals into a unified team. He has authored two books that reveal the true essence of what makes a team invaluable and necessary for the faculty to reach the next level of achievement.
In this presentation Mark will discuss:
Why team's are more productive
Green Beret Secret's to teamwork
Cross-training to achieve greater flexibility
Build an A-Team in your school
Exercise your team for ultimate success
Lead your team to achieve the extraordinary
---
Record-Smashing Recruiting
(Keynote or Workshop, Ideal for those involved with recruitment of students)
Mark Johnson knows about recruiting. In this presentation he will offer some keen insight and provide the audience with a plethora of ideas on how to improve and increase your recruiting efforts. Absolutely a must-attend for university, college and community college faculty in the business of recruiting students. If your desire is to increase campus enrollment, study Mark's tactics to excel. Athletic departments benefit from learning different techniques used to locate and sign prospective student-athletes. Corporations benefit by luring the top candidates from competitors.
While chairperson of the Reserve Officers Training Corps (ROTC) at Pittsburg State University, Mark, in his first year, accomplished feats in recruiting students (click here to view the full story) that had never before been seen and has yet to be approached. While on the faculty of the U.S. Army Command & General Staff College, Fort Leavenworth, KS, Mark has smashed existing records of attracting students to enroll in his electives, more than quadrupling previous records that had previously withstood a century. When the average enrollment of an elective at this Masters-level institution is 12-16, Mark regularly gets between 50 and 120 for his electives.
As a highly regarded athlete in high school, recruited by legendary coaches such as Ara Parseghian of Notre Dame and Vince Dooley of Georgia, Mark has a knack for understanding the basic elements of recruiting and how it works. More impressive is the inspiring manner in which he delivers this message. This session is sure to provide the attendee with tips that can be put into action with immediate positive results.
Learn such things as:
How to develop a proper, coordinated message and plan
How to organize each department or section involved to follow the plan
Where to go and How to look for talent
How to deliver the message in a way as to produce immediate results
Dress properly for the occasion. What is right and what's not.
Know your audience, and speak/act appropriately
How to organize, follow-up, track, and maintain prospects and/or recruits
Learn the area support base, who and what holds the keys
The 10 S's….your KEY to recruitment record-breaking success!
---
Mark also offers coaching, consulting and mentor services. The ideal professional speaker for your next conference or event.