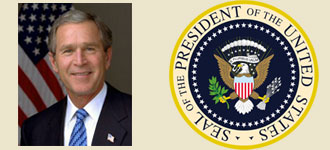 "Colonel Johnson, Thank you for your book, Lessons in Leadership... our nation is grateful for the courage, dedication, and sacrifice of our veterans. Laura and I send our best wishes. May God bless you, and may God continue to bless America."
George W. Bush
43rd President of the United States
---
"Leadership is a subject that undergoes constant scrutiny and interpertation. It can be complicated, misunderstood, and even frightening to grasp and understand. In these books, I express my feelings on the essence of leadership. My simple formula for success applies to LEADERS at all levels, whether you are a CEO, scout master, grade school teacher, or parent. It is relevant to all leaders and is easy to understand, utilize and put into every-day practice.
The American baseball legend Jackie Robinson said, "The value of your own life is judged by how significant an impact you have had on others!" Ultimately, the greatest gift given us in life is the oppurtunity to be a leader and to make a difference in the lives of others. I invite you to share the "secrets" of my journey and allow this to be your guide to successful and inspiring leadership."
Mark Johnson
author
---
Lessons In Leadership:
Straight Talk from a Green Beret
by Mark Johnson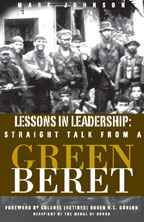 The newest book from Mark Johnson "Lessons In Leadership: Straight Talk from a Green Beret" was released, April 2005. Over 200 pages and 40 action photos packed with information and motivation. Order your personalized, autographed copy today. See ordering information at the bottom of this page.

Read an article featuring Mark and his new book in the Lawrence Journal-World.




An important read for anyone in leadership or interested in becoming a leader!!!
This is an excellent and inspirational read for anyone who is a leader or wishes to become one. Mark Johnson mixes personal experiences as a Green Beret officer with practical suggestions for increasing morale and cohesiveness in the workplace. This book truly is about teamwork and leadership, and how you, as a leader of people, can motivate and inspire others to achieve beyond expectations. Whether you are military, ex-military or civilian, this book will help you to understand the essence of leadership. You will develop the ability to apply Mark Johnson's experiences to your everyday life, whether that be in the corporate world or at home. As an added bonus, this book is a very entertaining read! I am pleased to give this book 5 stars!!
Dale Fedorchuk
Calgary, AB Canada
---
Leadership is learned - and this is a great place to start
Tired of the same old corporate books on management success? "Lessons in Leadership," by Lieutenant Colonel (Retired) Mark Johnson, is an introspective and insightful testimony on the critical components of leadership.
As a combat-tested leader of elite Special Forces, Mark developed a penchant for organizing and motivating a diverse pool of people in countries throughout the world. Through personal anecdotes, he inspires his readers to join him through various leadership challenges in some very interesting places, including Africa, Korea, Iraq, and the Philippines. It's a fast-paced, enjoyable ride from cover to cover.
Although the anecdotes are military based, this book was written for a much broader audience. Anyone that believes leaders are made, not born, will benefit from this instruction. While Mark emphasizes the importance of humility and character, the foundation of the book is a leadership formula he refers to as CEx3. This formula is easy to learn, remember and apply and Mark does an outstanding job of describing the relevance of each element by artfully relaying personal experiences. Leadership is a complex topic, but Mark dissects it skillfully.
As an avid reader of management books, I found "Lessons in Leadership" a refreshing change of pace. The book is written in an inviting, conversational style and avoids two peeves of mine: tedious analysis and self-aggrandizement. It is concise, informative, and chock full of useful lessons learned.
Mark's enthusiasm is contagious and you will find yourself wanting more. Leadership is learned - and this is a great place to start. 5 stars.
Chad Chasteen
Fort Leavenworth, Kansas
---
I am always looking at ways to improve my leadership. I can honestly say that after reading "Lessons In Leadership" written by LTC Mark Johnson (Ret), I have a renewed vision on my approach to working with staff members and students.
Lessons in Leadership provides an indepth view on leadership and is written in such a way that it is not only easy to understand but easy to incorporate.
I would recommend this book to anyone who is either in a leadership position or will be soon.
My thanks to LTC Johnson for making a book of this quality available.
Rod Moyer
Elementary School Principal, Eudora Kansas
---
This is a must read for effective team building and leadership.
"Lessons in Leadership: Straight Talk From a Green Beret," is a book for anyone interested building a solid team or one who is interested in being a leader of an organization. Mr. Johnson does an excellent job of relating training he received as a military leader to everyday life, and that of an effective leader and/or team. This book also includes tactics and examples it takes to build a cohesive bond among a group of individuals, which in return develops a highly functional TEAM! This book is beneficial to any and everyone no matter the occupation they have chosen, such as educator, someone in the corporate world, and most important life. Mr. Johnson, thank you for a book that has truly impacted my life and my role as teacher.
Matthew L. Spring
Teacher, Eudora Kansas
---
Leadership from the ground up
This book is for people interested in building an effective, cohesive team. Mark Johnson knows what he is talking about because he has "been there, done that." Mark knows what is takes. He gives excellent examples and down to earth, understandable descriptions. I enjoyed his chapters on the importance of confidence and excitment. And of course, the stories from his Green Beret days are informative. But the best part of the book is the last several chapters about commitment to excellence, team building, and motivation. I highly recommend this book for leaders at any level...
Michael Lackman
---
Excellent "Been There Done That" leadership lessons!
This book provides excellent personal examples of leadership in tough circumstances. Mr. Johnson's personal experiences and practical application offer great lessons which we would all do well to emulate. He has walked the walk and in this leadership volume, talks the talk, offering great insights to anyone looking for a way to get an edge on others in the leadership environment. I highly recommend this book as a "hands on" approach to leadership, with relevant examples for the business world today.
Lee Vaughan
---
How to Get Anyone to Follow You Anywhere
The Green Beret Secrets to Leadership & Team Building
by Mark Johnson

How to Get Anyone to Follow You Anywhere: the Green Beret Secrets to Leadership and Team Building, contains fifty-eight pages detailing Mark's basic formula for leadership success: C.E. times three. Only those points essential for understanding have been included. This book is short, to-the-point, and easy to read. It is designed to provide its reader with a quick study and reference of leadership and team building. An ideal companion for the business traveler, school teacher, government worker, coach, and scout leader.



---
All my professional life I have looked for ways to better understand effective management and leadership. I have read many books, listened to many speakers, and have memorized many definitions over the years. But, the answer to the question, "How does one execute leadership and, how can I teach leadership to others" eluded me. Then I heard Mark Johnson speak and read his book "How to Get Anyone to Follow You Anywhere." The answers to my questions were there in a few short chapters. The easiest to read and understand text on leadership I have ever seen. In a few short chapters he outlines six critical elements of leadership that are clear and easy to understand.
I have incorporated his book into my lectures. Mark Johnson is someone who successfully motivated people to be brave and follow him into some incredible places. How he did it is transferable knowledge and I recommend his book to all who find themselves leaders of people.
John Dew
President (retired), Inn Ventures, Inc.
Instructor, Washington State University
---
I highly recommend this book to anyone who leads people. Mark distills some of the very basic elements necessary to effective leadership. An easy to read book that is packed with powerful principles. Its simplicity provokes the reader to consider his or her own leadership style.
Tim Leets
Chief Operating Officer
InterNet Associates
---
We have used Mark's services as a motivational speaker and author in presentations to our 1500 sales staff in various locations throughout the Western United States. We have purchased several hundred of his books and used them for middle and senior management. I've been extremely impressed with Mark's presentation as well as his delivery and credibility.
We have used Mark's book for our 1,500 sales staff throughout the United States. We use them for middle and senior management. His views are inspirational, refreshing and practical. It has had a major impact on our leaders.
William F. Peare
President and CEO
Trendwest Resorts Inc.
---
I am proud to endorse Mark Johnson's brand of proven leadership. It is with a great deal of personal and professional pride that I urge you to examine Mark's "lessons learned" as captured in this book. Examine them carefully, let Mark Johnson be your mentor and coach, then utilize his tools.
Roger H.C. Donlon,
Colonel (Retired), United States Army
Congressional Medal of Honor
---
ORDER NOW!
To receive your personalized, autographed copy of
How to Get Anyone to Follow You Anywhere:
Green Beret Secrets to Leadership and Team Building
Send a check or money order for $15 (includes shipping and handling)
To receive your personalized, autographed copy of
Lessons In Leadership: Straight Talk from a Green Beret
Send a check or money order for $22 (includes shipping and handling)
Order both books for only $30.00 (A savings of $7)
CAMOUFLAGE COMMUNICATION, INC.
P.O. Box 326
Eudora, Kansas 66025-0326